Tallahassee, FL – On January 18 the Gamma Mu Lambda (GML) Chapter of Alpha Phi Alpha Fraternity, Inc. put in action its "My Brother's Keeper" (MBK) initiative.
GML President David Jackson, Jr., Ph.D. and committee co-chair Keith Miles, delivered MBK packages across Tallahassee to Alpha Brothers who often can't participate in chapter activities.
They visited four GML Brothers at their respective homes, fraternizing with them in person and dropped off an additional two packages.
Brother Jackson said, "This is a special initiative to let our Brothers know that the chapter is thinking about and thanking them for their support through the years." Brothers Henry Taylor, J.D. Brown, Kent Taylor and the son, Reggie, of Brother John Seals were all pleased to receive the visit. Jackson added, "this is a noble effort that we must continue on an ongoing basis."
MBK co-chair Keith Miles thanked Sheila Jackson, Ph.D., the wife of Brother David Jackson, for her efforts in assembling attractive packages for the Brothers and said, "I am proud of GML for remembering these outstanding Alpha's and letting them know that we care."
The packages included: a personal card from Brother Jackson, the new GML masks, designed by Brother Cicero Hartsfield, a "Protect the FAMULY" mask, hand sanitizer to help keep the Brothers safe during the COVID-19 pandemic.
My Brother's Keeper is a national program of the Alpha Phi Alpha Fraternity, Incorporated and is carried out by local chapters.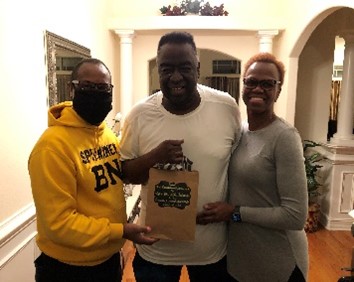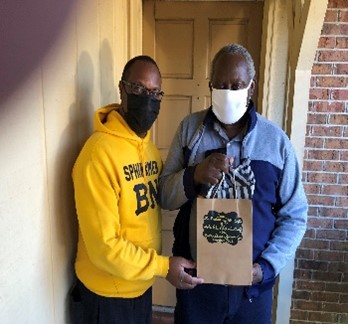 (L-R) GML President Dr. David Jackson, Jr., and Brother Henry Taylor